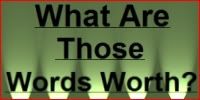 Just a quick update on my sons venture, not because he needs the publicity but because I enjoy taking an interest !
He has had a busy week, with 10 of the words having now been taken, they have gone to good homes, each with a story.
Feathered Nest
took one and has been a flag flyer, showing the green badge on her blog, thank you !
The impressive thing is, he has found homes for most of the words by emailing local companies and targeting different sectors, he has demonstrated true tenacity.
On Thursday night the editor of a local web based news provider,
Saddleworth News
came to our home and interviewed Jacob, which has been
run as a feature
this weekend . This has a monthly readership of 22,000 so has already generated considerable interest.
The other big event was an introduction he made on
UK Business Forums
, It didn't start off well! His initial post was met with very negative comments, two pages worth !! It was very difficult as a parent not to sign up myself and fight his corner, but I held off and watch as he countered all the arguments then started to win some of them round.
The thread on the Forum
has now run to 6 pages and had 1,167 views. I don't think he has convinced everyone there that his idea is great, but some are arguing from the standpoint he will never become rich from this project,
well that wasn't the plan !
He is a 15 year old taking his first business steps, I am sure this is only the first of many ventures ! The forum thread did however generate a big influx of views to his site and generated the sale of a word by one of the participants.
So if you have taken up a link I hope it is starting to generate you some extra views, I have had several visits here per day, that have come from
What are those Words Worth
so I do think as an advertising medium it is starting to have an affect. If you haven't taken a look yet, pop over and see
What are those Words Worth
Buying a word is not for everyone, but while you are there please click on his Facebook Like (top right on his site) I am sure he would appreciate it...