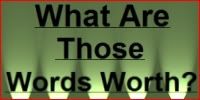 Today's Spotlight is on a new business venture my son has set up. A budding entrepreneur he is always looking for the next "Big Idea" Sometimes I humour him, sometimes I stop him and sometimes his Sisters point out he has "missed the boat", its already been done.
Last week he told me about his latest idea and I was quite taken. The inspiration for his venture came from a University student in the South of England who set up a website called the
Million Dollar Homepage
The guy's basic idea being, he divided a webpage into 1 million dots or pixels and sold them for advertising in blocks of 10x10. Amazingly he sold them all, at his target price of
$1 each
, hence making
One Million Dollars
!!!!!
Now Jake is not quite so ambitious and as he pointed out, if you look at the
Million Dollar Homepage
it pretty hard to find any one advert, as there are so many. The answer Jake came up with was a pretty clever play on words
A webpage that simply display's Wordsworth's classic poem "Daffodils" each word being available to buy as a link to your webpage or Facebook page. Giving 155 selling opportunities.
Now the impressive part, he set too and created a website for himself entirely written in HTML and CSS code, no templates for this boy.
The result a clean uncluttered but clever and slick site that does just what it set out to do, not a bad result for a 15 year old! As
Victor Kiam
used to say on the shaver adverts " I was so impressed, I bought the company" well not quite, but I was impressed enough to stump up the money to pay for a domain name and web hosting, in return for two words of my own. We also had a
Dragons Den
moment, when I pushed the deal to include a return on my initial investment once 50% of the words had sold, I tried for more but failed !
As I write this, the site has only been on line for 3 days, I own the only two links but another has been sold to a local "Hiking Shop"and will be added this morning, this as a result of his blossoming email campaign. Jake has also secured a interview with a local journalist who is visiting our home next Thursday evening to put a feature in his online journal
Saddleworth News
, which has 22,000 readers each month !!! So paid links will be getting plenty of hits ...
If you have a spare 5minutes pop over to his site and have a read, the
What's it all about
page will tell you more in Jakes own words
"What are Those Words Worth"
Finally I am sure Jake would be really great full if you could click this Facebook Like button, the more publicity he gets the better...