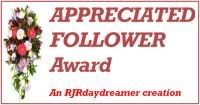 I have come to realise that most of the awards that are presented to bloggers, by other bloggers, are for being a good blogger... There is nothing wrong with this, but I wanted to come up with something a little bit different. An award for those that play just as much of a part in a successful blog, the followers !
We all have followers that always take the time and effort to make a comment or just pop in on a regular basis. This award is just for YOU !!

What to do if you are given this award.
Copy and paste the award to your blog and wear it with pride.
Post about this on your blog.
Think of YOUR followers, then go comment, telling them to call at your post to collect the award. Thus the thanks are passed on and on.
Remember this is not about blogs you like, its about followers you appreciate !
I appreciate every one of my followers, so if I haven't called by yet jump in and take the award anyway !!
If your not a follower fine , feel free to take the award to give to others thus starting your own chain
UPDATE TO POST 08 Aug 2011
To make it easier for everyone I have created a new page with code to share this award with all your followers. It can be found on the Tabs at the top as "Followers" or by clicking
HERE