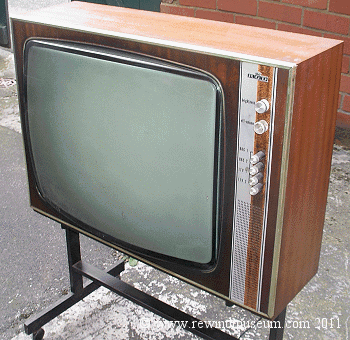 What do you remember about TV as a youth? We had a TV not unlike this one, although I could never work out what the 4th channel select button was for? We could only get BBC1 BBC2 and ITV, then in 1984 we found a use for it with the launch of Channel 4! This gave us 2 commercial channels and the scope for TV advertising doubled. In those days multi-media meant you had a TV and a Radio. The only thing you could get that was cordless would be Pyjamas and they were high tech
(image from Rewind Museum)
Sad to say when I was younger my parents would tell me I watched to many TV ads. It must be a child/youth thing because I now find my kids can quote current ads verbatim. This thinking got me wandering down memory lane and pondering commercials I have enjoyed.
We start with an ad for the Yellow Pages phone book.. apart from just generally being funny I love the word "eejit"
Next up, the laughing Martians "Then they smash them all to pieces"
Lest we forget, be warned Elephants never do !!
This final one was not meant to be funny but it is now..
As you watch on your computer with 3-4MB of memory, remember the day when a unique selling point was 48K of memory !!
If you have been wondering why my posts have been a little less frequent, I have actually been blogging like mad to establish a new blog for the youth class I teach. I mentioned this new assignment a few posts ago (
Exciting New Challenges
) Now things are settling into a routine I hope to find the time to be selfish and indulge in some blog viewing and writing! I have added a 5 post feed to the new blog on the right side of here or, if you fancy meeting my students or just generally being nosey your welcome to pop in and visit at ..