Garratt 138 Springhead Works
I don't know how the summer is going in your part of the world. Here in the North West of England some days have been more like winter than summer, rain wind cold, not what you hope for in the latter half of June
Yesterday however the sun made an appearance so I had a dig at the back of the shed and found a couple of locomotives that haven't run for over a year. Batteries in and off they went.
The one above is made form sheets of plastic and offcuts of plumbing pipe and is a based on Garratt 138 currently housed at the Welsh Highland Railway. 138 was designed and built by Beyer Peacock many years ago not more than 10 miles from where I live. Designed to articulate the Garratt locomotive was intended for narrow gauge railways with tight bends. Lots of power on small rails.
Mine in 1/24 scale took around 6 months to build and is probably the best running loco I have made to date. It is also fitted with a sound generator so the noise you hear when it passes is not dubbed on after.
The second loco I ran is a much simpler affair, in fact I don't mind it being referred to as a toy, because that's what it is. All my track and motors are made by Playmobil. They were bought second hand from Ebay very cheaply and recycled. The standard Playmobil train is this...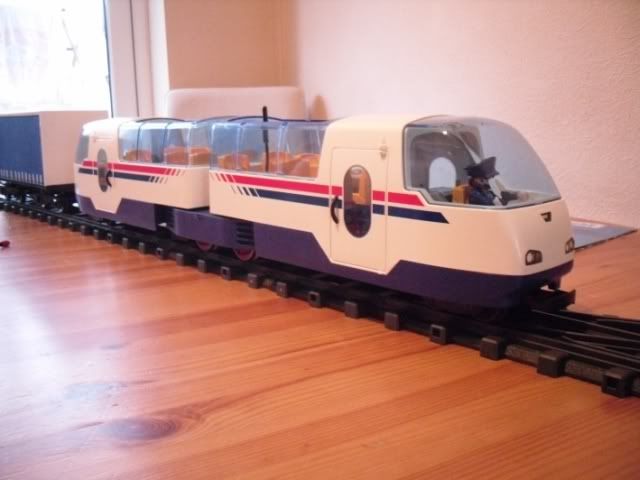 I generally strip the motors and wheels out to make the models like the Garratt above, but I decided to give one a make over and repaint. This has no sound unit but the replacement metal wheel make a pretty convincing Clack as it passes.
Pimp my Playmobil
Both can be seen on the following video, The Garratt is on second.